Product Description
Infinite Leads by John Whiting
"We booked 38 calls and closed over $6,000 in new revenue in our first week implementing what Infinite Leads Teaches. If you're selling anything to anyone, you need this course!
– Trenton Robertson, Business Owner, Texas, United States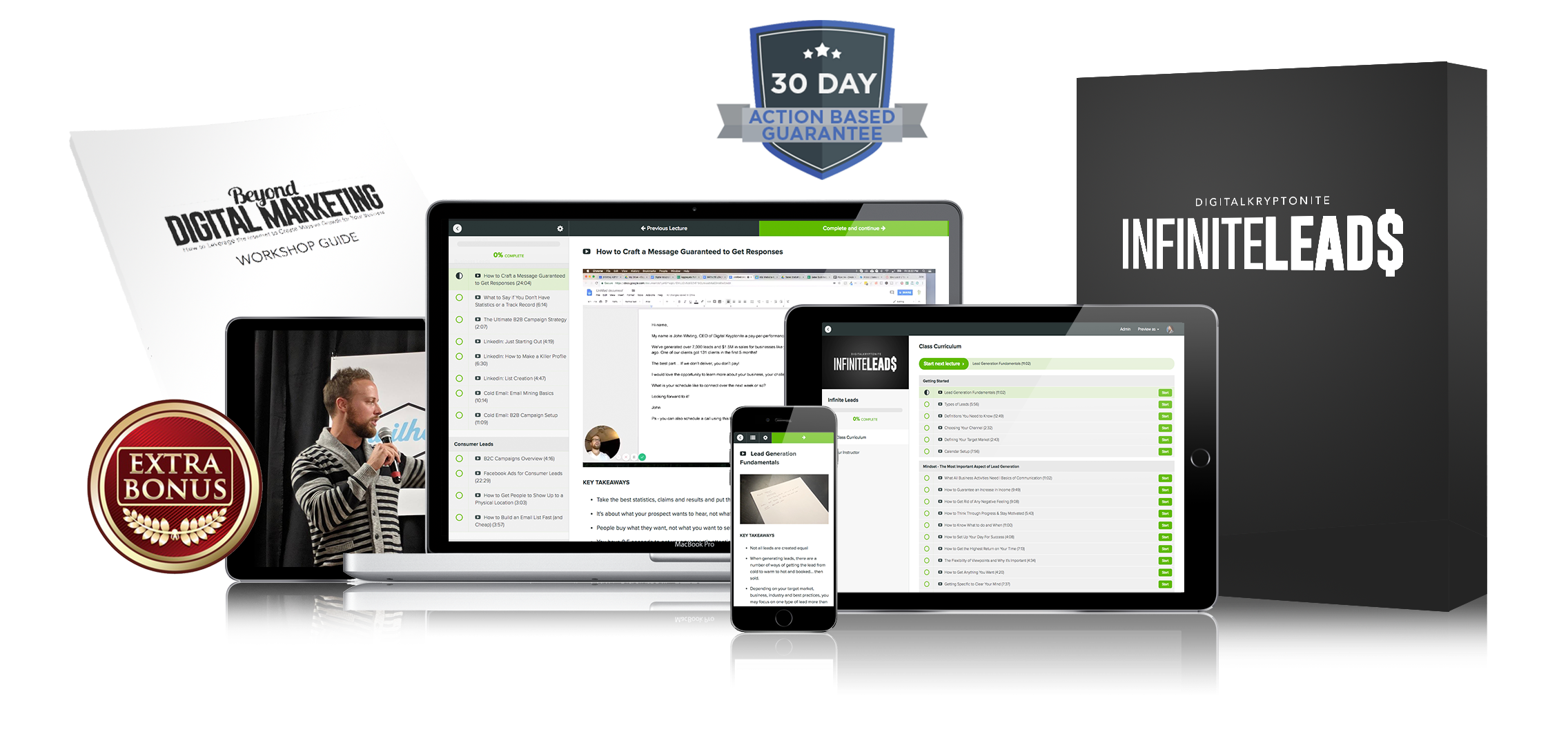 Developed by a Lead Generation Agency
The techniques in the Infinite Leads program are proven* to work. Digital Kryptonite uses this same method in its own agency to book an average of 5-8 new qualified appointments per day and averages 20 new clients per month.
Who is this for?
The Infinite Leads course is for Enrepreneurs, Salespeople, Coaches, Trainers, Consultants, Agencies, Solopreneurs and anybody selling anything to anybody! If you need to sell a product or service, and need to talk to a human being to do it, this course is for you!
Everything you need is provided in simple-to-understand tutorial videos. No tech skills or marketing experience are required to benefit from the training.
Some of Our Successful Students
Here's a sample of the many positive reviews
Class Curriculum
Getting Starte
Lead Generation Fundamentals (11:02)
Types of Leads (5:56)
Definitions You Need to Know (12:49)
Choosing Your Channel (2:32)
Defining Your Target Market (2:43)
Calendar Setup (7:56)
Mindset – The Most Important Aspect of Lead Generatio
What All Business Activities Need | Basics of Communication (11:02)
How to Guarantee an Increase in Income (9:49)
How to Get Rid of Any Negative Feeling (9:08)
How to Think Through Progress & Stay Motivated (5:43
How to Know What to do and When (11:00)
How to Set Up Your Day For Success (4:08)
How to Get the Highest Return on Your Time (7:13)
The Flexibility of Viewpoints and Why it's Important (4:34)
How to Get Anything You Want (4:20)
Getting Specific to Clear Your Mind (7:37)
The Viewpoint you need to have to scale anything (5:38)
The Power of One: How to Keep Going Even When You Don't Want to (3:59)
When in Doubt, Simplify (4:20)
Big Games vs. Small Games (6:46)
Why Disagreeing Leads to Success (6:43)
If You Can Waste it, You Can Have It (13:35)
Planning & Projecting for Success (10:41)
Business Lead
How to Craft a Message Guaranteed to Ge Responses (24:04)
What to Say if You Don't Have Statistics or a Track Record (6:14)
The Ultimate B2B Campaign Strategy (2:07)
LinkedIn: Just Starting Out (4:19)
LinkedIn: How to Make a Killer Profile (6:30)
Linkedin: List Creation (4:47)
Cold Email: Email Mining Basics (10:14)
Cold Email: B2B Campaign Setup (11:09)